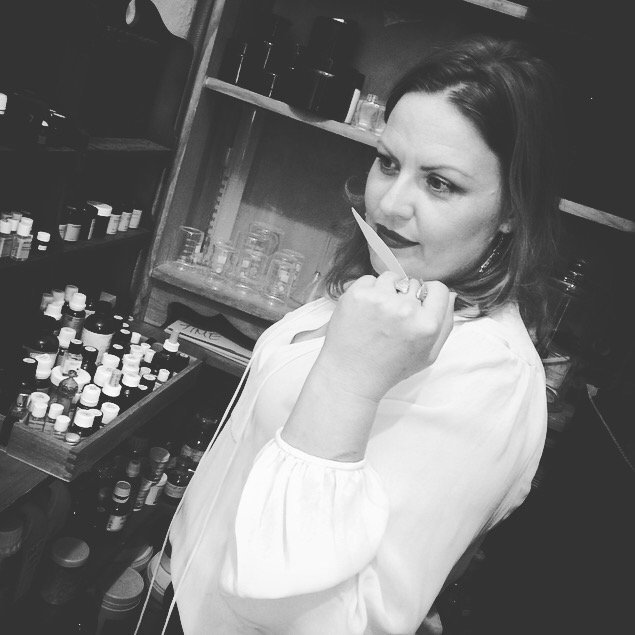 It's been a while since I wrote the 'why' of KARMME scent, now it brings me to the 'who?'.
I had an idea for a photoshoot late in 2016 that involved showing how people used KARMME. What did they put inside their clutches, did they use minis inside clutches inside totes etc... I wanted to do a series of flat lay photos to highlight the alternative uses of KARMME. I also wanted to try to promote as many Australian, independent designers wares as I could for the shoot. So started my journey and along the way found Jocelyn Fullerton of Cult of Scent.
Whilst trawling instagram for travel size perfumes I came across Jocelyn's feed, in fact I had noticed it before when I saw the workshops on offer via Workshopaus and had been intrigued that you could learn how to make perfume right here in Sydney. I had not got a chance to attend a workshop but knew it would be on my list of things to try. Cult of Scent travel size perfumes looked perfect for the shoot, ticked all the boxes of locally produced, well presented, fit into KARMME and would be something I'd absolutely carry in my mini. I contacted Jocelyn and instead of offering to send some out to me she wanted to meet up and give them to me as well as tell me the story behind the scents creations. I knew as soon as she started to describe the 'drop of dew on a rose petal leaf first thing in the morning' that this creative lady had not only the scientific brain to create perfumes but also the creative mind to transport people to places in their minds that gave smell a new level of emotion. I received some beautiful samples which were perfect for the shoot and I promised myself to get to one of Jocelyn's workshops to learn more.
Time went by, life got busy and I never got to the workshops. Then as you read in the 'why' I had this idea to create a scent. I messaged Jocelyn and asked very randomly, 'how does this all work, I've got this crazy idea to develop a fragrance'. She replied back with 'let's talk!'. So we did.
I knew she was the right person for this collaboration. Jocelyn lectures in botany, herbal manufacturing, pharmacognosy and essential oil chemistry, she worked with NIDA in the Sensate Studio exploring the use of olfaction in enhancing sensory engagement in performance and art. Through her scent creation and poetic verse she transports you to places in your mind through your ears and nose. And she's passionate, so very passionate about her craft. These were the reasons Jocelyn became my 'who' of KARMME scent.
I am excited to share this experience with a small group in an upcoming workshop at West Elm, Chatswood on 23rd June, 2018. Jocelyn will take participants through the process of fragrance development, introduce you to her 'organ' of oils and explain top notes, heart and base notes, the elements all the perfumes you are attached to or choose each day or have a memory stimulated by. We will chat about how we came to develop KARMME scent and each participant will blend their very own perfume, based on what you love to wear, how it makes you feel and the places it takes you. You will take home 15ml Eau de Parfum of your signature blend and the formula will be kept on file in case you ever want more.
It's sure to be a beautiful afternoon, join us for an unexpected olfactory journey.
Saturday 23rd June, 2018
2-4 pm
West Elm, Chatwood Chase
$120 per person